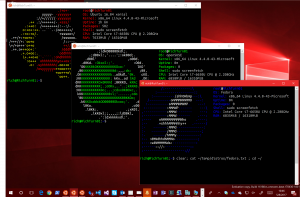 Nel Windows 10 October 2018 Update preparato dagli ingegneri di Microsoft sono state aggiunte diverse nuove feature al Windows Subsystem for Linux (WSL). L'azienda di Redmond ha pubblicato un post con tutti i dettagli sulle novità, i bug fix e le migliorie introdotte delle quali beneficeranno gli utenti di Windows 10 (a partire dalla build 1809 in poi). Vediamole insieme.
WSL: tutte le novità
E' ora possibile lanciare la Linux Shell da Windows File Explorer. Cliccando col tasto destro, ad esempio su una cartella, vi comparirà nel menu la voce "Open Linux Shell here".
Notepad, che supportava solo l'EOL di Windows (Windows end of Line), ora è in grado di aprire anche file di testo creati su Linux o macOS. Di fatto è stato aggiunto il supporto per lo Unix line ending character. E' anche possibile controllare nella status bar sul fondo della finestra quale formato di EOL il file aperto sta usando.
L'aggiornamento di Ottobre di W10 rende possibile il copia/incolla da e verso la console del WSL. Questa funzionalità può essere abilitata dalla Console 'Options' tab spuntando il box "Use Ctrl+Shift+C/V as Copy/Paste".
Microsoft ha poi stretto una partnership con la community dietro al package manager Chocolatey e al tool di configurazione Boxstarter per facilitare e di fatto automatizzare la creazione di ambienti di sviluppo.
Furthermore, all the features listed should be available on systems with the Windows 10 October 2018 Update installed/Windows 10 build 1809 or later.
Come installare il Windows Subsystem for Linux (WSL)
Il modo più rapido per installare il WSL su Windows 10 64-bit (ricordo che la funzionalità non è disponibile su sistemi a 32-bit) consiste nell'aprire PowerShell come amministratore e dare il seguente comando:
Enable-WindowsOptionalFeature -Online -FeatureName Microsoft-Windows-Subsystem-Linux
Fate riferimento a questa guida di Microsoft se avete problemi. Dopodichè installate una distro Linux dal Windows store. Ci sono molteplici distribuzioni Linux disponibili WStore tra cui Ubuntu, openSUSE Leap 42, Debian GNU/Linux e Kali Linux.
280,06€
in stock
42 new
from 259,52€

Amazon.it
Free shipping

Last updated on 7 novembre 2018 18:18

Vi ricordiamo che seguirci è molto semplice: tramite la pagina Facebook ufficiale, tramite il nostro canale notizie Telegram e la nostra pagina Google Plus. Da oggi, poi, è possibile seguire il nostro canale ufficiale Telegram dedicato ad Offerte e Promo!
Qui potrete trovare le varie notizie da noi riportate sul blog. È possibile, inoltre, commentare, condividere e creare spunti di discussione inerenti l'argomento.
L'articolo Microsoft aggiunge nuove funzionalità al Windows Subsystem for Linux (WSL) sembra essere il primo su Lffl.org.